Image
Tom Skeele
It's been an eventful Fall already in Oregon, with more in store. Check out the latest news and upcoming events from the team.
Intel, tech companies in Oregon join call for climate action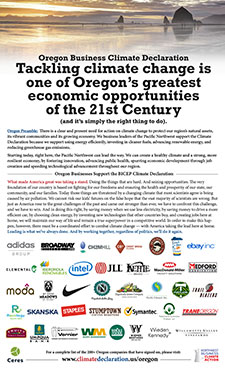 In late September the number of companies signing on to the Oregon Business Climate Declaration reached a whopping 200, including some of the state's largest and fastest-growing technology firms: Intel, Elemental Technologies, Symantec and eBay. The list of signers has more than doubled since the Declaration's launch in July, and continues to grow, as more businesses agree that tackling climate change is not only absolutely necessary for the health and safety of all our communities, but is also "one of the greatest economic opportunities of the 21st century." Read more.
People's Climate March in NYC, Oregon and across the globe
Image
Linda Dobson
Climate Solutions took part in the largest climate action in history on Sept 21, 2014 – in Portland, Seattle and at the primary march in New York City. Check out some staff reflections on this moment in history.

In Portland, over five thousand Oregonians flooded the waterfront demanding climate action at the state, national and international level. Supported by over 120 endorsing organizations, speakers and marchers included health care professionals, labor union members, church goers and faith leaders from a multitude of congregations, young activists and elders, artists and entrepreneurs all united for climate action at the state, national and international levels.

VIDEO - Climate March in Portland: Hold polluters accountable (KOIN TV 6 CBS, Sept. 21)
Photos of the PDX People's Climate March: Speakers | Close-ups | Marchers
Huge win on coal export in Oregon
Image
ALEX MILAN TRACY
ALEX MILAN TRACY
In August, the Oregon Department of State Lands (DSL) rejected a vital permit for Ambre Energy's proposed Morrow Pacific coal export project along the Columbia River. The historic decision deals a severe blow to Ambre Energy's struggling proposal and marks the first time a Pacific Northwest state agency formally rejects a permit for one of the proposed coal export terminals.
Read more.
EPA's Clean Power Plan in Oregon
Image
President Obama and the Environmental Protection Agency's (EPA) Clean Power Plan is a significant and vitally necessary step towards solutions, by regulating the largest collective source of carbon pollution in America.  It is truly the beginning of the end of the era of free and unlimited carbon dumping.  This is a real opportunity for Oregon to continue to transition away from coal and invest more in clean energy. On September 25th, the Oregon Global Warming Commission unanimously approved a resolution supporting the efforts of the EPA. Read more.

>>>TAKE ACTION: Demand limits to carbon pollution from the EPA
 
Perspectives: Impacts and Solutions in Oregon and the NW
Bend Bulletin Op-ed: Clean air and climate solutions for a healthy Oregon – by Carrie Nyssen of American Lung Association of the Mountain Pacific and Dr. Susan Katz from Oregon Physicians for Social Responsibility.
Image
"Take a deep breath. Today you'll take over 20,000 of those. Most of us take breathing for granted — we never have to think about it. For those with respiratory diseases like asthma, emphysema and lung cancer, each breath can be labored and a struggle. Clean air is critical to everyone in our communities — the healthy and the sick — and new research is shining a brighter light on the link between climate change and public health." Read more.

A modern energy system for a changing climate - by Cameron Yourkowski of Renewable Northwest
Image
"It's time for Northwest utilities to improve coordination of our region's flexible generation through an Energy Imbalance Market (EIM). Working together, we can save ratepayer money, integrate more clean energy and help fight climate change." Read more.

Getting Smarter (CS Blog) – by Bryce Yonker of Smart Grid Northwest
Image
The Executive Director for Smart Grid Northwest answers a key question: What exactly IS smart grid? And he provides 5 great reasons why it matters to all of us. Read more.

Soil carbon, home on the range – by Jenna Garmon, NBI Program Coordinator
 
Image
"In the era of climate consequences, it's easy to characterize carbon as the problem and forget that it's actually a building block of life. The problem isn't carbon per se; it's just that there's too much of it in the wrong place. We've pumped and dug it out of underground fossil fuel deposits and put it in the air where it is disrupting our climate. So in addition to transitioning off fossil fuels, we must get creative about removing existing carbon pollution from the atmosphere." Read more.
Upcoming Events
Go Green Portland 2014
October 16, 8:00am-5:30pm - Oregon Convention Center, Portland
The 7th annual GoGreen Portland conference brings together private and public sector leaders to share their work on the key components of a framework for a socially sustainable community. Be sure to catch the opening plenary where Oregon businesses call for climate action, moderated by our very own Carrie Hearne. As a member of our network, you can register with discount code "CLIMATE" for a 30% savings on your ticket.

CUB Conference – Changing Climate: Adapting to New Regulations
October 24, 8:00am-5:30pm - University of Oregon's White Stag Block, Portland
The CUB Policy Conference brings together the foremost thought leaders in the Pacific Northwest and is specifically designed to engage and educate utility analysts, policy analysts, attorneys, community stakeholders, and other professionals throughout the energy industry. Catch Ann Gravatt speaking on how utility projects can mitigate greenhouse gas emissions.

Sustainable Business Oregon Innovation in Sustainability Awards
November 18, 5:30-7:00 pm - Exchange Ballroom, Portland
Come celebrate local sustainability champions who run their operations with the leanest waste, water, energy and transportation expenditures.
 
Climate Solutions 6th Annual Dinner
November 20, 5:00-8:00pm – Hilton Portland
We hope you can join us for our Climate Solutions 6th Annual Dinner on Thursday, November 20, 5pm-8pm at the Hilton Portland. We are excited to announce that Hannah Jones, Chief Sustainability Officer and VP of Innovation Accelerator at Nike, Inc. will be our keynote speaker. Register today or become a sponsor.

Happy Fall to all!
In solidarity,
 
-Ann, Carrie, Jenna and Bobby
Connect with Climate Solutions
Give for a brighter future
Did you enjoy this article?